GLOUCESTER POOL LEAGUE

GLOUCESTER POOL LEAGUE
News Report
Wayne Rhino Smith & Gloucester Pool League Presentation Night 12th April 18:00
12/02/20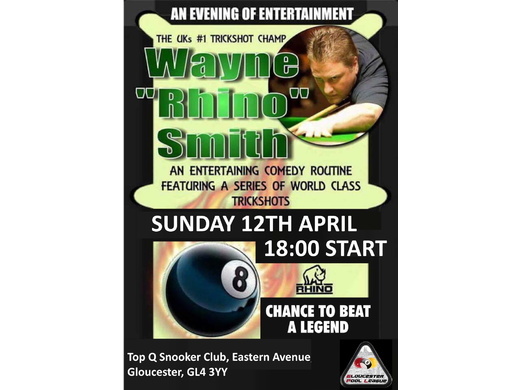 Gloucester Pool Leagues Winter Presentation night will be a little different this season.
Its on Sunday 12th April and GPL has a special guest star - Wayne "Rhino" Smith

Wayne "Rhino" Smith is the number 1 trickshot player in the UK and performs a series of trickshots as part of a comedy routine to entertain the Crowd.

The night kicks off at 18:00 and is Open to all to attend, whether a Gloucester Pool League player, someone who is keen on cue sports, or just interested in meeting one of the best!

There will be a chance to meet and "beat" Wayne during the evening, after which the GPL presentation of Winter Season Winners will take place.

Come along to Top Q and get involved !
Want to see just how good Wayne is? Checkout his Facebook page for videos https://www.facebook.com/pg/Wa...

Follow the site to get the latest news and results straight to your email